AllergenFreeCookbook.com ROCKS !
Home Start Here About the Author Contact Order Online Order by Mail

'Family Favorites' is exactly that, a collection of recipes that Gail Phares' family enjoys every day. Seven key allergens are avoided through careful selection of ingredients, and Gail recommends products that you can find right on your grocer's shelves to replace some you might not even realize may be causing issues in your life.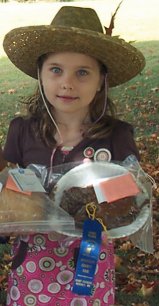 Easy To Be Allergen-Free Cookbook 'Family Favorites' is the first of a series of books Gail is planning. She is going to provide you with all of her recipes so you and your family can become healthier and happier like hers did. Gail has done the hard part - all you have to do is follow the recipes and be on your way to allergen-free eating.
Easy to be Allergen-Free Cookbook "Family Favorites" is a collection of simple to prepare, cost effective, and delicious recipes for everyday baking and cooking without the use of the Top Allergens: Wheat, Eggs, Dairy, Soy, Peanuts, Tree Nuts, and Gluten.
Gail's book recounts how she first learned that she and her toddler had an intolerance to gluten. She also lets you know which simple blood test will show whether you have an intolerance to a trigger food. As Gail is so at home in the kitchen, it naturally came to her to learn to use different ingredients and get the same, often better, results. Her baked goods are moist and flavorful, her batters are crispy and tasty, and every food group is included, so everyone gets a balanced diet on top of avoiding the key allergens.
Easy to follow recipes fall easily into place for anyone with interest enough to try. Gail's recipes have been winning blue ribbons annually at the Randolph County Fair. Kids and adults alike from all over the USA have tried Gail's cooking and can't seem to get enough. She decided that the easiest way to share the recipes with you is put them in a book so even if you can't come visit, you can enjoy!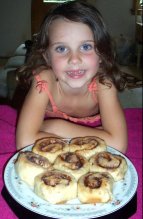 Look at the smile on the face of this child who knows she's about to dive into those cinnamon rolls! Gail's husband, two sons, and three daughters all realized health gains when Gail modified their diets according to what she learned through trial and error and through medical testing of her kids' allergies. Even her mom is onto the secrets now and finds Gail's food regimen is to her advantage too.
As much as the book provides a wealth of information for allergy sufferers looking for fresh ideas, 'Family Favorites' provides entertainment as well. Gail has included sayings and poems that help express her feelings to the reader. The book is a complete package, fulfilling in every way.